2000W Heavy Duty Metal Fiber Laser Cutting Machine for Steel/Stainless Steel/Aluminum 1500*300mm



Features
1.High-rigidity heavy chassis,reducing the vibration generatedduring high-speed cutting greatly.

2.Gantry double-drive structure,with imported German rack&pinion transmission system,improves the production efficiency.


3.High-performance whole-cast aluminium crossbeam,after finite element analysis,realizes highly accelerated circular arc cutting speed.
4. Open worktable, simple operation and small space eccupation.
5. High precision, fast speed, narrow slit, minimum heat affected zone, smooth cut surface and no burr.
6. The laser cutting head does not come into contact with the surface of the material and does not scratch the workpiece.
7. The slit is the narrowest, the heat affected zone is the smallest, the local deformation of the workpiece is very small, and there is no mechanical deformation.
8.It has good processing flexibility, can process any pattern, and can cut pipes and other profiles.
9. Non-deformable cutting can be performed on materials of any hardness such as steel plates, stainless steel, aluminum alloy plates, and hard alloys.
10. Adopted with 2000W Raycus fiber laser source, has the feature of highelectro-optical conversion efficiency, altitude stress-resisting capacity, sheet cutting efficiency, customized output fiber length, maintenance-free operation and wide modulation frequency range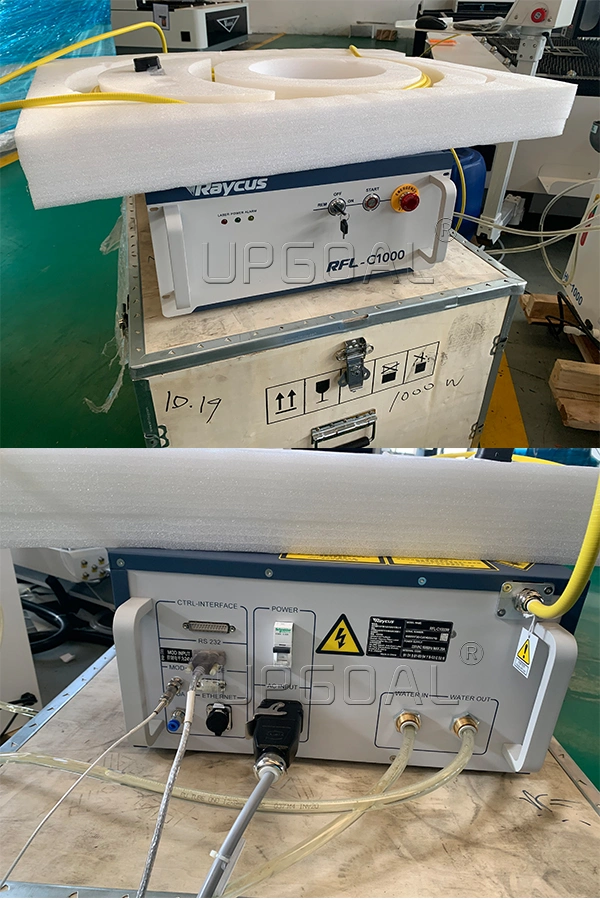 11. RayTools fiber laser cutting head : Automatic focusing: focusing speed:100mm/s,
Multiple protective lens: efficient protection of colliamating focusing lens
Long service life: collimator lens and focuslens both have water cooling heat sink
Hightly dustpoof: IP65 dustproof




12. Laser cutting system( CypCut): The software(CypCut) is embedded with a rich memory of laser cutting setting references, flexible layout designs and tool path editing, data import/export,bridging, coedge, beam compensation, curve smoothing, division, caombination, automatic identification of exterior and interior modes and so on, compatible, with laser source brands such as IPG, SPI, JK, Raycus, etc.



13. WIth Japan 850W Servo motor driver, high precision & fast speed.



14. Hiwin Taiwan linear square guide rail Guide rail & helical rack pinoin transmission system




15. Industrial chiller CWFL-1000/1500/2000( Teyu, China) for cooling


Technical Parameters

Work

i

ng area

1

500*300

0mm

Laser type

Fiber laser generator

Laser power

1000W/1500W/2000W( Raycus brand,China)

Laser head

High accuracy professional fiber laser head(Raytools)

Laser cutting system

CypCut

Laser cutting software

CypCUT

Driving system

High speed servo motor( 850W Yaskawa, Japan, 3 sets)

Reduction gear

French Motovario( 4 sets)

Guide rail

Linear square guide rail, Hiwin, Taiwan

Tranmission system

Helical rack and pinion transmission, Taiwan YYC

Proportional valve

Japanese SMC

Water chiller

Industrial chiller CWFL-1500( Teyu, China)

Driving system

Gantry double-drive structure

Maximum speed

100m/min

Maximum accelerated speed

1.0G

Position acccuracy

±0.01mm/1000mm

Reposition accuracy

±0.03mm/1000mm

Graphic format supported

CAD,DXF, etc

Lubrication system

Automatic

Working environment

Temp:0-40ºC,humidity:≤80%,No condensation

Total power

Around 20KW

Power supply

AC380V±10%, 50/60Hz, three phases
Applications
Suitable material
Cutting a wide variety of metal plates, tubes, mainly applicable to stainless steel, carbon steel, manganese steel, galvanized sheet, a variety of alloy paltes, rare metal and other materials cutting.
Application industry
Industry of kitchen ware, lamps and lanterns, panel beating, metal cabinets, auto parts, refrigerators, air condition, elevators, hotel metal supplies processing, etc.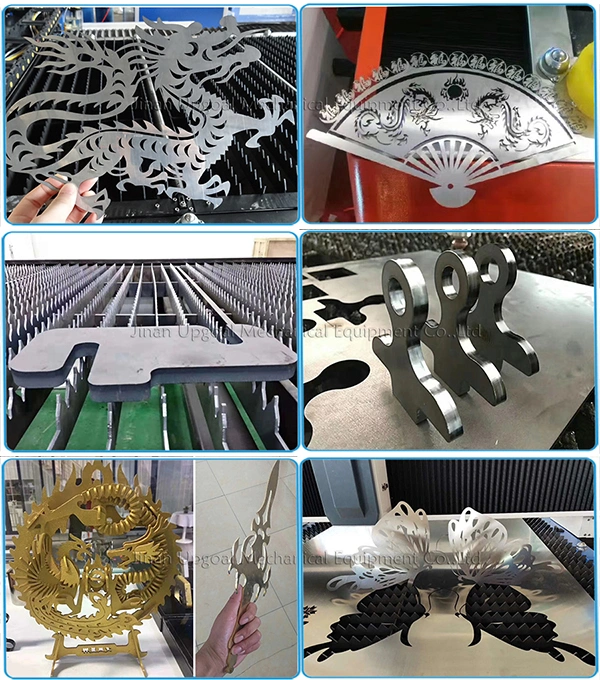 Reference Working Videos

https://youtu.be/_XDhsQvKbQQ



For more information, just feel free to contact us!
Jinan Upgoal Mechanical Equipment Co.,Ltd

upgoalcnc.en.made-in-china.com,
CNC Router/Laser Engraving Cutting Marking Machine/Plasma Cutting Machine