What Materials Can Be Pelletized in a wood pellet plant?
Nearly all forestry and agro-waste material can be made into wood pellets by our wood pellet
mill, such as: Wood Chips, Shaving, Sawdust, Groundnut-shell, Sugarcane,Caster Shells/
Stalk, Coffee Husk, Paddy Straw, Sunflower Stalk, Cotton Stalks, Tobacco Waste, Mustard
Stalk, Jute Waste, Bamboo Dust, Tea Waste, Wheat Straw, Palm husk, Soybeans Husk,
Straws, Rice Husks etc.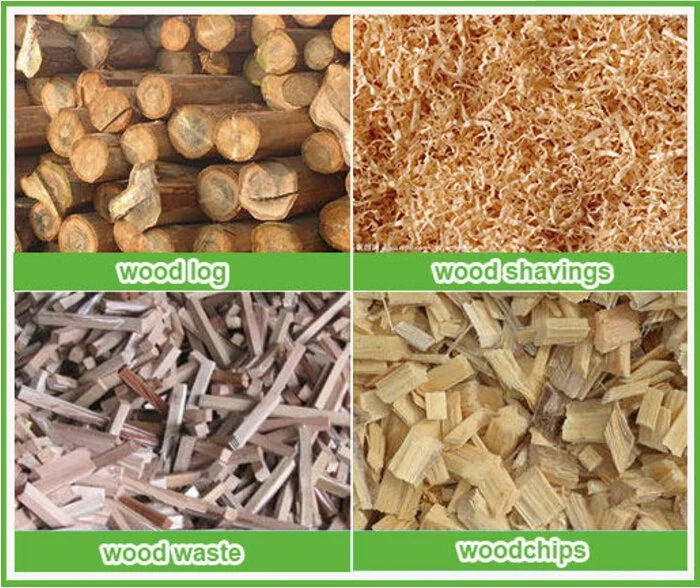 Wood pellets application:
As a matter of fact, sawdust pellet made from waste wood is a good kind of fuel to replace
traditional fossil fuels like coal, gas, petrol, etc.
1.Burning in a stove to cook at home;
2.Heat the house, school, hotel, or greenhouse, farm;
3.Used in thermal power plants to replace coal.
4.Used as cat litter to replace clay;
5.Used as horse bedding, or beddings for cow, chicken, dogs, and other animals.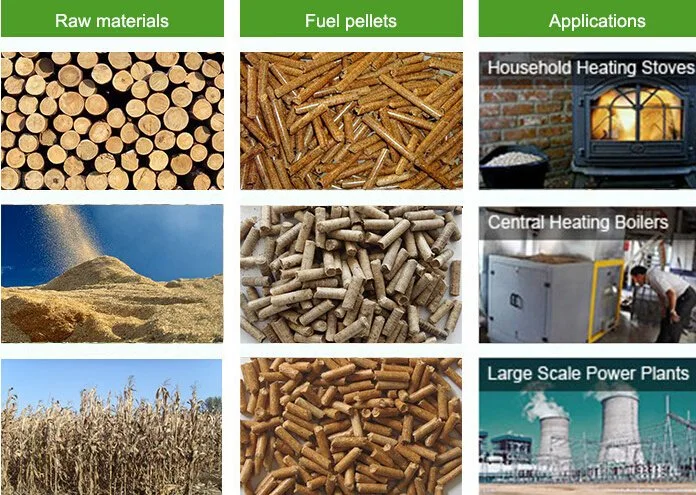 Main Machines of complete wood pellet production line:
1. Wood chipper( crush the big wood into small wood chips)
2. Hammer mill( to grind the wood chips, rice husk, etc into smaller size below 6mm)
2. Dryer ( dry the raw material to proper moisture before making pellets)
3. Pellet making( press raw material into pellets)
4. Cooler( cool down pellets and remove some moisture)
5. Sieve(remove dust, and broken pellets)
6. Packing scale (pack pellets into bags of required weight, like 15kg/bag)

Main process in a wood pellet plant:

Crushing process - wood chipper and wood Hammer mill
The best material size for supporting to produce pellet is 1-5mm. Thus if your material
diameter exceed 5mm, then you need crushing machine to crush and grind them into small
powder 1-5mm. Our LYGX series wood chipper and MFSP series hammer mill are your
best choice. After milled, the output size can reach 3-5 mm, then it is pushed to next process
to get dried and pelletized.

Drying process - Rotary Dryer
The best moisture content to pelletizing is about 12-18%. Our rotary dryer is made up of
burning stove and main rotary dryer which is high efficient in drying the wood and biomass
material. It can realize to reduce the moisture from 50% to 10%.It is very important for
wood pellet plant to using moisture detector which will determine the most suitable
moisture before pelletizing.

Pelletizing process - Wood pellet mill
Wood pellet mill is the heart of the wood pellet production line, and has reliable running
performance. It is special designed for compacting of wood, straw, and other biomass
sources into pellets. Capacity ranges from 1T to 10T per hour. Our MZLH series Ring die
pellet mill is best choice for large scale production.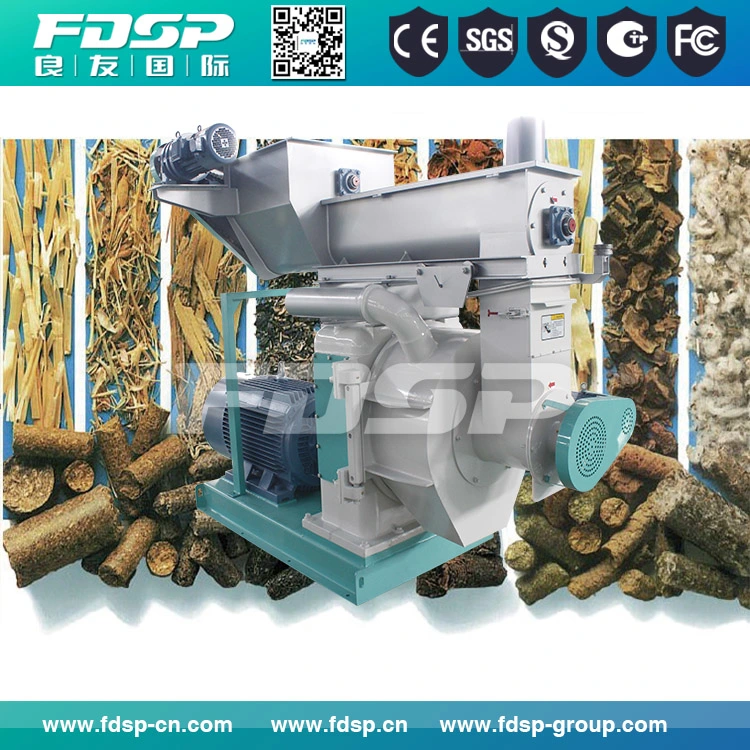 Cooling process - Counterflow cooler
Usually after pelletizing, the temperature of wood pellets is between 60-80 degrees and
the moisture content is close to 15%. For storage purposes,a cooler must beused to
reduce their surface temperature and the moisture content, also help screen good and
pure pellets.

Packing process - Packing machine
After cooling process, the wood pellets will not directly enter into the fuel process, avoiding
the wood pellet affected with damp, the packing process is very necessary. The packing
process is effectively handled by our Semi-Auto Packing Machine.




Please kindly note:

Not all these processes are necessary for you. These are common
processes for your reference. we will customize the complete solution as per your raw
materials condition and your request for capacity.

Parameters of wood pellet mill:
| | | | | |
| --- | --- | --- | --- | --- |
| Model | MZLH420 | MZLH520 | MZLH680 | MZLH780 |
| Capacity(T/H) | 0.8-1.2 | 1.5-1.8 | 2-2.5 | 2.5-3.5 |
| Main motor power(kw) | 75/90 | 110/132 | 160/185 | 200/220 |
| Feeder power(kw) | 2.2 | 3 | 4 | 4 |
| Ring die dia(mm) | 420 | 520 | 680 | 780 |
| Pellets dia(mm) | 6-8 | 6-8 | 6-8 | 6-8 |

Our service
As a professional and experienced supplier of turn-key projects in China, we have the ability
to provide full services for customers:

1. Complete project design
2. Equipment manufacture and project engineering
3. Machinery delivery service to most of the locations in the world
4. Plant installation and commissioning service
5. Staff training and project managements
6. Spare parts supply and lifelong consultation service
7. Possible financial and banking services for some projects

Certifications
We have CE, SGS, GOST-R and ISO9001 certificates.