Normal Fish Feed Pellet Machine Pellet Making Plant Line
Jiangsu Liangyou Zhengda Co., Ltd., specializing in the production of feed machinery and engineering, can provide customers with complete sets of equipment solutions for livestock feed (pig, etc.), poultry feed (chicken, duck, goose,etc.), ruminant feed (cattle, sheep, etc.), common aquatic feed (four major Chinese carps, etc.), special aquatic feed (shrimp, crab, etc.), extruded aquatic feed (floating and sink fish feed, shrimp feed, etc.), premix feed (including all kinds of additives, etc.), and pet food(cat food, dog food, etc.). to meet the different needs of customers.
Now take the 3tph normal fish feed set as a case, according to the process flow and each section to do the following introduction and description.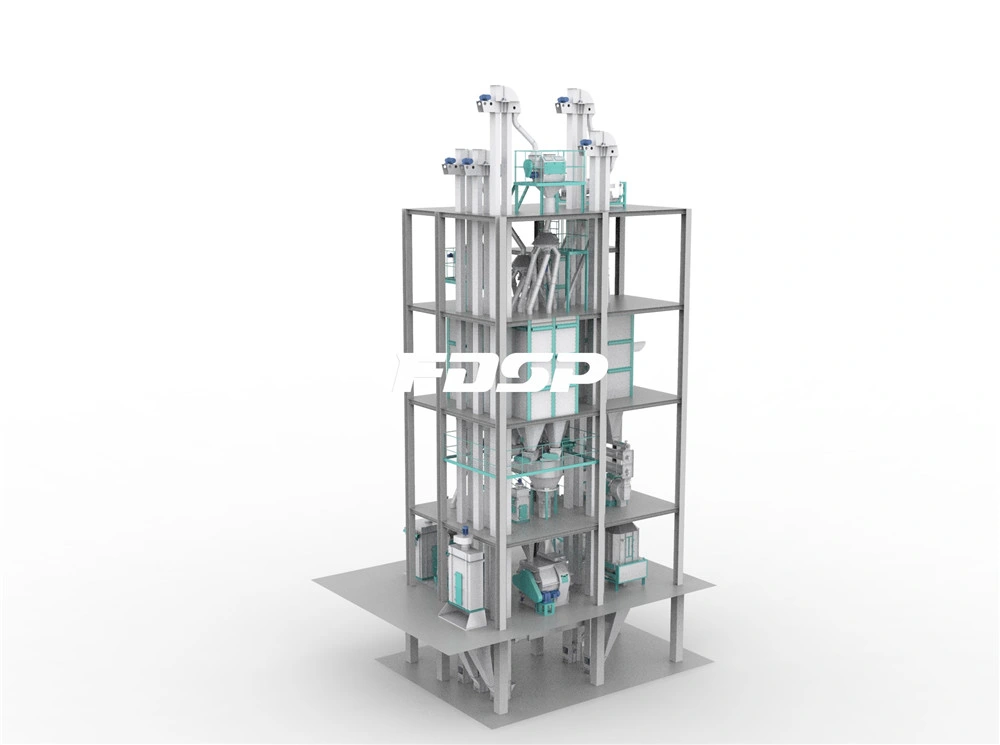 Definition of normal aqua feed:
The normal aqua feed is referred to the sinking pellet feeds needed for ordinary fish types( like four major Chinese carps)
Raw material:
Ordinary aquatic feed products are mainly protein raw materials, including grains, cake meal, rice bran, bran, blood meal, fat, antibiotics, vitamins and so on.
Introduction of process:
Ordinary of aquatic feed is characterized by fine grinding fineness (hammer mill mesh size 0.8- 2.0 mm), high conditioning requirements (using double jacketed conditioners), small product particle diameter (particle diameter of about 2-4.0 mm).The single set of SZLH350 normal aquatic fish feed project was designed to produce 3t /H, using one grinding line, one batching mixing line, one pelleting line and one packaging line. The total power of the equipment is about :210KW; The construction area of the production area is about 9.5×7×16.3m (high); allocated with 0.5T boiler. The line is with compact engineering design, reasonable structure, meeting environmental protection requirements, and can be designed according to customer requirements.
Main Process:
1. Raw materials receiving and cleaning section:
In this section, pellet feeding cleaning and powder feeding cleaning are separated independently and separate dust removal. Dust removal effect is good.
Cleaning equipment:granules sifter SCY63,capacity 10-15T/H;powder cleaner SQLZ60X50X100, capacity 10-15T/H.
2. Grinding section:
This section adopts one hammer mill, and with one pre-grinding bins. Before entering the bins, the impurities are removed by magnetic separation device to ensure the safe operation of the hammer mill.
Grinding equipment : Hammer mill SFSP668×600, 55kw, designed to produce 3-4t /h(¢1.5mm screen hole)
3. Mixing section:
This section adopts 8 batching bins, single set of batching system. It is controlled by the batching program independently developed by our company to realize accurate fast and slow feeding, fast batching and high precision.
Weighing equipment: Dosing scale PCS05, dosing precision: dynamic ≤3‰, static ≤1‰.
Mixing equipment : single set of mixer SHSJ1, (11KW, 500kg/ batch), designed to produce 3t/h/ set(The mixing time is long for fish feed). Mixture uniformity CV ≤5%.
4. Pelletizing section:
This section adopts one double-layer conditioner pelletizer, and with one pre-pelleting bin, which is convenient to switch between varieties. After pelleting, they are respectively entered into the cooler and the elevator into the rotary screener in order to be screened, and the finished products are put into the packing bins, and the rest are returned to pelleting or bag receiving.
Pelleting equipment : SZLH350, 55KW, designed to produce 3t/h.
Cooling equipment : SKLN2.5, 1.1kw, 2.5m3 volume, designed to produce 3-5t/h.
5. Packing section:
There are 2 finished product bins in this section; Vibration sieve is arranged before packaging to screen out the powder in the finished material.
Packing equipment: Belt scale, packing range: 20-50kg/ bag, 6-8 bags/minute.
Auxiliary section: Dust removal system to improve workers' working environment; Grease adding system, common mixer place added to improve feed palatability.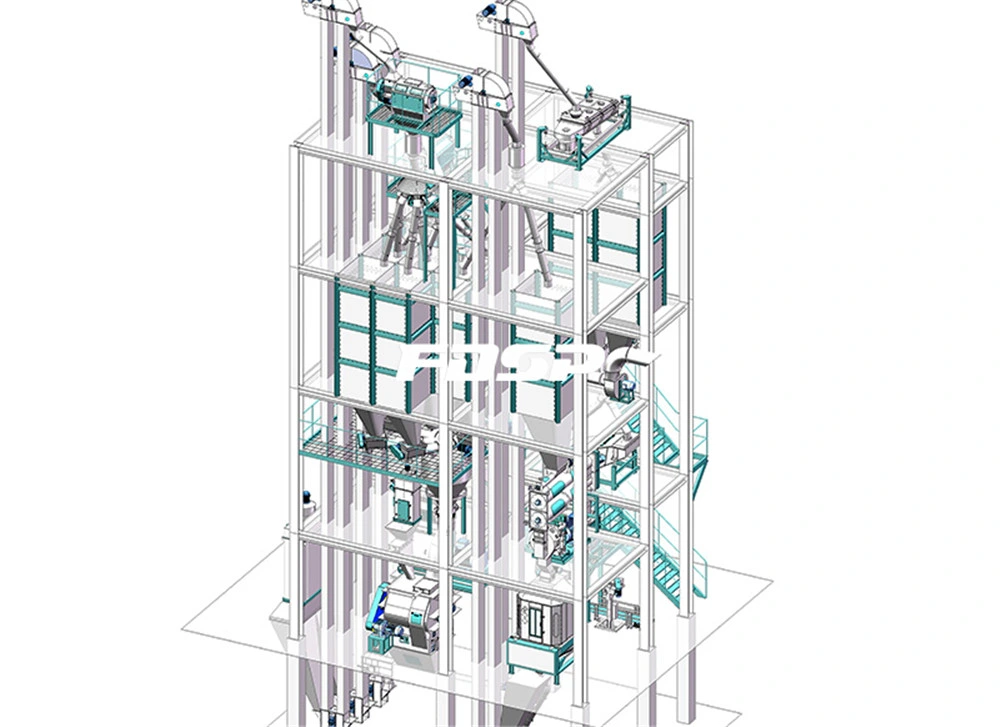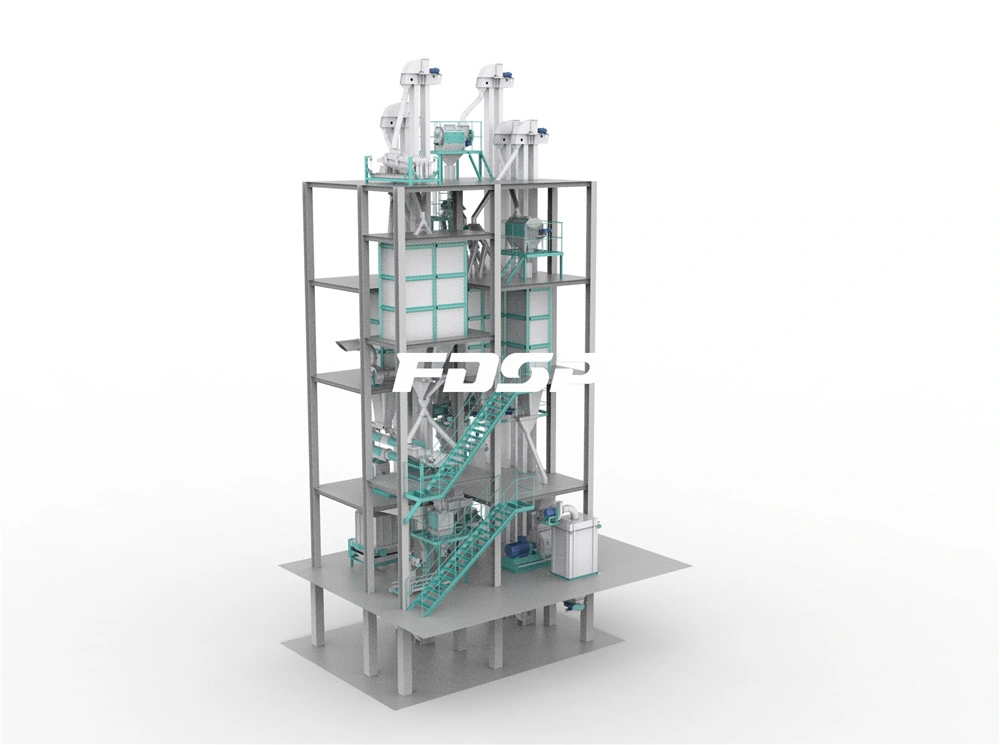 According to the needs of different customers, the scheme can be optimized:
1. The scheme adopts the single-point dust removal mode, that is, each rotary distributor (powder material) and pellet cleaner is equipped with a pulse dust filter, which has a good dust removal effect. Single point of dust removal is our company's humanized design, which can provide a better working environment, but the cost increases. Customers can consider whether to use this configuration according to the actual needs;
2. The quantity of bins can also be adjusted according to the formula of customers, the characteristics of raw materials and other factors, so as to achieve the highest utilization rate and effectively control the production cost;
3. The dust collecting design at packing site can improve the working environment of workers, but the cost will be added and customers can configure according to their needs.
About FDSP